The love-hate relationship between Australian and American BBQ truly began in the (Australian) summer of 1984 with the Paul Hogan 'Come and say G'day' commercial.
In an attempt to attract more American tourists to Australia, Mojo and N.W. Ayer teamed up to bring us a video full of white sandy beaches and pre-Cocodile Dundee Paul Hogan speaking with a strong yet very understandable Australian accent.
While the ad definitely did its part in making Australia a more attractive to foreign tourists it also became a major point of contention for Australians and foreign tourists. The particular problem being Hogan's iconic sentence 'I'll slip an extra shrimp on the barbie for you'. The sentence has become so ingrained in popular culture it is not only mentioned by every drunk tourist visiting the country but it is now also a meme.
What most foreigners don't realise is the correct phrase in Australia would actually be throw some prawns on the barbie. Replacing prawn with shrimp was merely a clever marketing decision in order to not confuse the American viewers, who have a different set of vocabulary to deal with their own specific types of crustaceans. Needless to say this common miscommunication leads to a great deal of ire from the Australians who feel that there is much more to their BBQ culture than throwing some 'shrimp' on the barbie. In fact BBQ is one of Australia's great prides and they have a number of their own specialities that rival those of America. Here are just a few tasty treats to try, and where to get them in Melbourne.
Damper is a bread made of wheat flour baked over the coals of a journeyman's campfire. It can also be made in a camp oven. It is often eaten with a sweet syrup or meat as the damper alone is quite bland.
The James Hotel down in the docklands serves damper as a starter. It is served kind of like a bread basket with dips, this damper is softer, than the stuff you would get out in a farm, hot and buttery, the recipe is meant to appeal to a wider audience than just those trekking in the outback.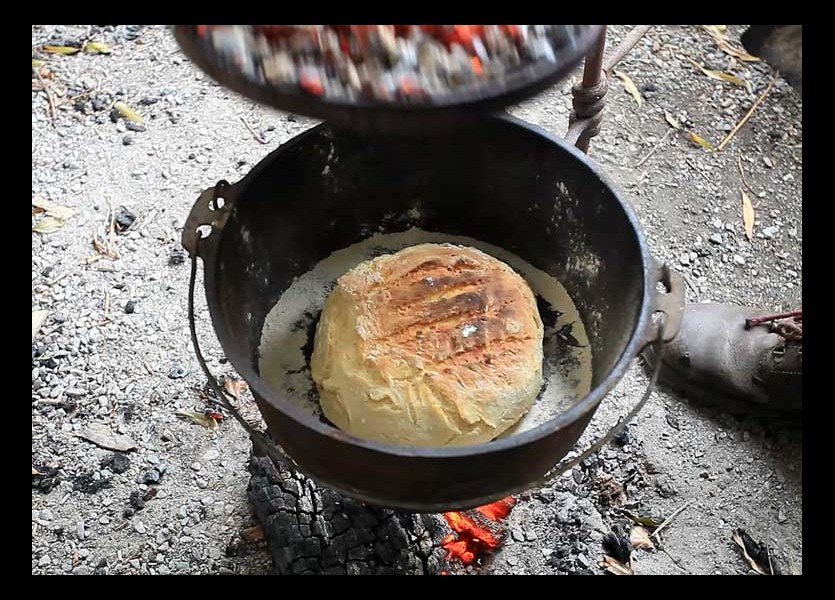 Looks like a dome of carby heaven to me
To make your own check out the Chicken Shop at the Queen Vic market during the day or get a pack of kangaroo steaks from your nearest supermarket at throw it on your own barbie.
Now this my friends is a hot dog
Chin Chin takes an Oz-Asian fusion approach to BBQ and does an amazing BBQ Barramundi, definitely worth a visit, though maybe a good idea to book in advance, this place can get quite busy.
Don't they look happy and patriotic?
If you have time, and a car, head out to Warrook Farm. Not only will you get to experience a ton of Australian wildlife (koalas, wombats, kangaroos and emus for a start) but it is also a working farm and historical homestead where you can learn more about Australia's rich history and the tasks associated with early settler life. They have guided tours and a heap of activities for kids and adults. They also have lessons in making damper and billy tea so you can try your hand at some traditional bush cooking and taste the product of your efforts.
For those who want to make a meal of it the Merrywell has a smashing Oz Burger that is wrapped in a damper bun. Considered one of the best burger joints in Melbourne, the Merrywell is definitely worth a visit. And after your burger you can take a walk along the Yarra River or catch a movie in the Village Cinema.
I am talking kangaroo, crocodile and emu meat.
While kangaroo is super lean, emu is more traditionally gamey, and crocodile is outright chewey. All Something for everyone in the land of Australian BBQ.
Napier Hotel in Fitzroy is well known for its delicious variety of kangaroo meat dishes, most with a healthy portion of golden chips, best served with a nice Mountain Goat Ale, or anything else from their extensive beer menu. The restaurant has become somewhat of a gastropub, cosy, good food but also relaxed and not too stuffy. Somewhere you could take anyone from your boss, to your parents, a group of friends or even a date. This is actually where I had my first date with my current partner so I may be slightly biased. I have never tried it myself but they also have something called a Bogan Burger (bogan being the Australian equivalent of a redneck or chav or ned). A terrifying mass of steak, schnitzel, potato, egg, bacon, pineapple, beetroot, cheese and tomato between a bun, this burger sounds like a monster of myth. Perhaps those less adventurous, like myself should stick to the kangaroo steak, or perhaps try the parma (cheesy tomatoey crumbed chicken). There are also some nice veggie options.
For a more casual alternative check out the Queen Vic night markets. The stand Australian Eating serves traditional beef burgers but also ostrich, croc and roo, as well as a tasting plate for all three. Be warned you may have to stand in line a LONG time if you get there during the rush. Then again all the stalls at the Queen Vic night market have a long wait, so just bring some friends and get a cup of sangria at the nearby stand to sip as you shuffle.
Finally if anyone is heading out to the Grampians for a hike consider spending a bit of time in Hall's Gap, the starting point for many local trails. There is an eatery on the main drag (well the only drag really) called Basecamp Eatery, this is definitely one to check out. They have very well priced, very large kangaroo steak pizzas that are delicious and fresh. Great fuel after a long day of hiking around the nearby trails.
Other places that come recommended but that I have not personally tried are the Royal Mail on Spencer Street, Charcoal Lane and the Crafty Squire (they have a Bush Tukka Feast that is supposed to be amazing).
I personally do not see the appeal of this, but it is endlessly popular among student societies, fundraisers, department stores and sporting clubs. Literally a hot dog in a piece of bread with some ketchup, maybe some onion if you are lucky. Millions of these things get consumed at university orientation weeks every year.
I recommend instead heading out to one of the gourmet hot dog bars around Melbourne like the Snag Stand by Melbourne Central or Massive Wieners on Chapel Street. You may not be able to get two for a dollar, but you will be far happier and have a better sense of what Australia has to offer.
4. Delicious local produce
Australia has incredible locally sourced produce, they are especially proud of their wagyu and grass fed beefs. Some names to look out for are Blackmore, Cape Grim, Minderoo, and most anything from Gippsland (O'Connor etc.).
Melbourne also has some really nice seafood Barramundi and mahi mahi are great for BBQs, as are salmon. Seriously Australians LOVE BBQing salmon, or at least those that I have met do. Lesser known BBQ favourites are sea mullet and luderick. For a wider range of seafood look for prawns, calimari, octopus, rock lobster and crayfish, all happy to have a spot on the barbie.
More grill than BBQ Rockpool's run by renowned chef Neil Perry has an incredible array of locally sourced meat and fish on offer. Slightly less expensive is a restaurant mentioned earlier the Charcoal Grill on Hill, who allow you to choose your meat from a display cabinet.
If you really want to get a good BBQ going why not organise your own. Head to Queen Vic, Prahran, South Melbourne or any of the other local markets floating around and get yourself some nice meat, fish and veggies. You can even get fresh pre-marinaded meats for extra flavour. The rules in Australia for BBQing are quite strict, especially during the dry months of summer when fire risk is high, but there are a number of parks, reserves and beaches with BBQ facilities available. There is a handy list available here. Don't forget to also bring a big cooler full of drinks and a picnic blanket or some lawn chairs. You can always find a great array around Australia Day, the 26th of January, mostly sporting images of kangaroos or the Australian flag.
Now while I did note the strong love of local produce and Australian BBQ culture, Melbourne is a very multicultural city and in my next post I will discuss some of the favourite American BBQ joints in Melbourne.